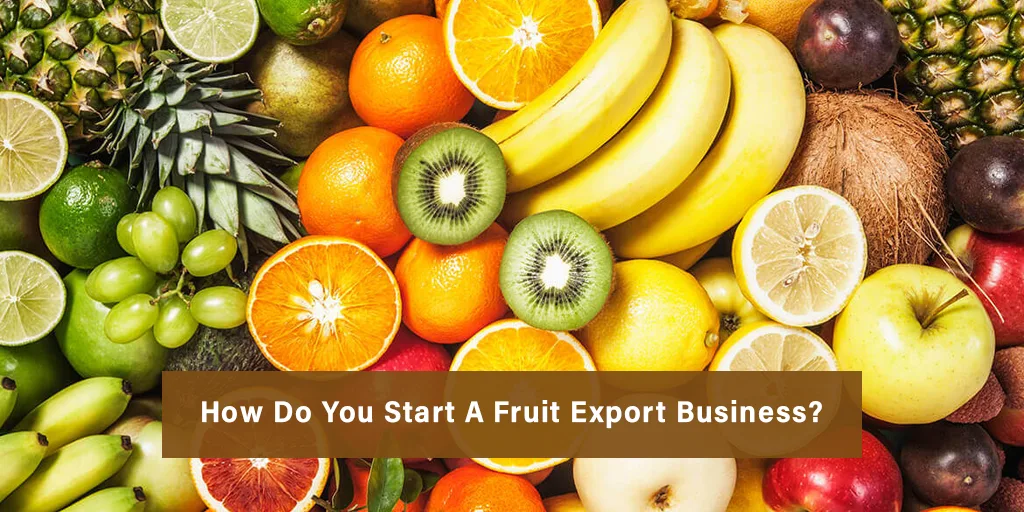 India is a major exporter of jewellery, gems, minerals, organic chemicals, compounds, iron and steel, apparel, equipment and many more. Fruits and vegetables and agro-food industries are the other industries that have good growth in exports from India. Due to high demand abroad, there is ample scope for further expansion of the fruit and vegetable export business.
So, if you are keen to start an export business, then due to the growing demand in India for quality fruits like apples, bananas, mangoes, pomegranates, kiwis in the USA, European countries, fruit exports may be a profitable option for you. Hong Kong, Vietnam and more.
So, let's take a brief look at how to start a fruit export business in India.
Select The Fruit You Want to Export
In our opinion, choosing your product for export is the first and foremost step to start a fruit import and export business. There are several factors to consider when deciding, such as:
Products
The fruit you choose should be available to you in large quantities and at a reasonable price. It also depends on the region in which you want to set up your company. Also, we recommend that you use fruits that can stay fresh longer as it will take a long time to export to other countries.
Demand analysis. Find out which fruits are in high demand in different countries and choose where you want to handle them.
Since the purpose of your business is to export fruits from India to other countries, make sure that they are of high quality, otherwise, your entire batch will be rejected by the Food Policy Authority of other countries. Check it out on the DGFT website and find the policy section and the ITC (HS) code.
Set Up Your Own Export Company
Now that you have decided to go ahead with the fruit export business along with all other export business ideas, you need to have a company registered with the Government of India to get export permission.
To set up any export company, try to find a location near a port or airport depending on how you prefer to export, as this will significantly reduce the transportation costs of the companies. Otherwise, moving most of your warehouses to ports or airports will be expensive.
Now, to answer how to start an export business, you need to look at other aspects while setting up your export company:
Give your company a good name and logo. A name that influences the mindset of your customers abroad.
Get your company's GST number, VAT, ST, or other tax-related business.
Apply for IEC number (importer and exporter code). This is mandatory for import and export businesses. For this purpose, visit the DGFT website and apply online for the IEC number, which requires the signature of the General Manager of the company and other employees with vacancies.
RCMC Registration (Certificate of Registration and Membership)
Issued by RCMC Federation of Indian Export Organization (FIEO) or other Export Promotion Council (EPC) or Commodity Council.
These organizations work for the growth and development of the export business, and they have the authority of the Government of India. This RCMC certificate is issued for a period of five years and indicates that the holder is registered with the respective FIEO / EPC or Commodity Council.
This registration will also include some of the benefits that can be availed under foreign trade policy. To apply for RCMC, you will also need to submit a completed ANF 2C application to the EPC relating to your export product. There are many different EPC products. You need an EPC application related to your export product.
Select Your Region to Export
You can export your products from India to different parts of the world. But, to better manage and provide a specific service/product to the customer (country), you have to decide which country you want to provide.
It is also necessary to study the import policy of this country and act accordingly. Being specific in the area you are serving helps you satisfy your customers and their needs satisfactorily.
Determine The Pricing Strategy
When pricing, you should consider all costs, taxes, VAT, transportation costs, or any excise duty that may apply to allow your product to be sold in other countries. Your final price will include these costs. You need to set a reasonable price so that your product will be attractive to the local customers in the country where you sell it. This will increase your customer base and product requirements.
Find Customers
There are many ways to reach your online customers or your contacts. You can sell your product in the local market of any foreign country through merchants or directly or you can place your product on any e-commerce site in that country.
Transportation
Decide how you want your product to be exported to foreign markets. If you want to export to any neighboring country, you can choose cheap but slow sea route, fast but expensive airline or land transport.
It also depends on the product. If the product requires fast use, it must be delivered quickly. If your product can last a long time, you can get a timely delivery. Whichever method you choose, you must agree to all the terms and conditions of the cargo carrier. If you lose your product in transit, make sure you get an insurance or loss protection policy from a trusted company.
Payment
In the export business, you must deal offshore in different currencies. Open your account at a trusted bank with hassle-free offshore transactions with minimal transfer charges. You can also find any digital payment gateway for this, which allows you to transfer funds in different currencies.
Conclusion
Panachamoottil is one of the leading Fruits and Vegetables exportersfrom India. Their highly trained executives conduct in-depth market analysis to study the market and give you recommendations. They will help you with every process involved in the export until your products are delivered to the destination. They are fully equipped to support you in case of any issues. If you are looking for an exporter of Fruits and vegetables, contact accounts@panachamoottil.com